Jane Hoffman of Coldwell Banker Horizon Realty in Kelowna, British Columbia, has been involved with the Central Okanagan Hospice Association for several years as a long-time sponsor of their annual "Swinging with the Stars" fundraiser and gala. "Swinging with the Stars" pairs well-known local community leaders with accomplished dance instructors and takes them through a lengthy training process to prepare them for their eagerly awaited culminating performance. The event has grown to one of the most anticipated annual charity events in the Okanagan Valley. This year, Jane Hoffman decided to take her support into the spotlight.
"This year was the eleventh anniversary and to my surprise they invited me to perform," explained Jane. "It always seemed like a nerve-wracking experience, so I was reluctant at first. I was making every excuse imaginable, but things changed when I was approached by my would-be partner, local RCMP officer Reg Sahay. He said that if I joined him, I could be the beauty while he could be the beast. Of course, it was difficult to say no to that."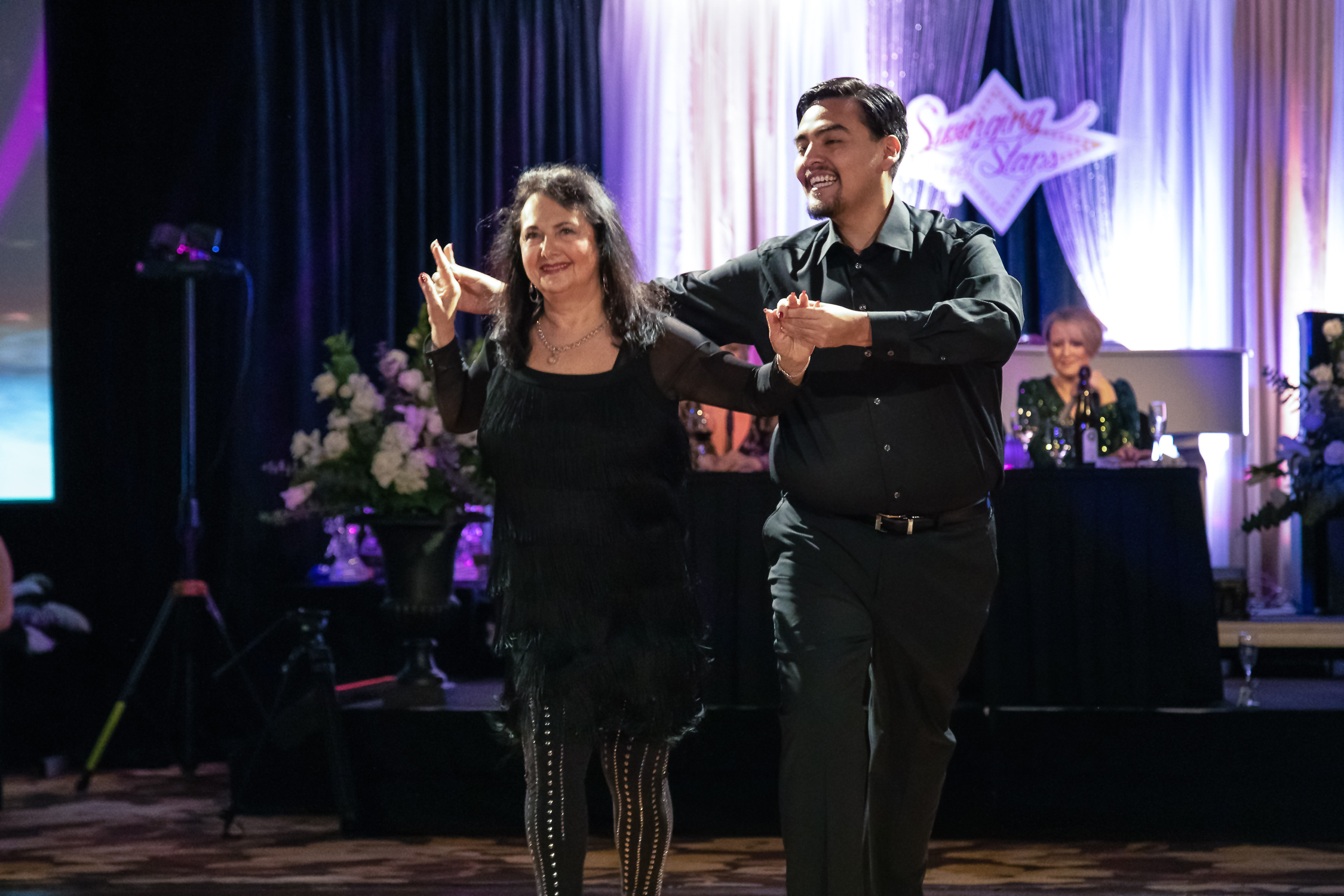 Jane and Reg began their lengthy training process. They trained once a week for several months leading up to the big night. The pair trained diligently under their instructor. Their routine was improving with each session and they were set to grace the floor opening night with a spectacular performance, that is until six weeks before their debut when the pair was struck with decisive adversity. Reg had suffered a severe injury while on patrol. His ankle had been broken. Although his spirit was undeterred, it appeared unlikely that he would be able to perform. Regardless, Jane continued to practice and with the commendable efforts of a stand-in performer, she delivered a dazzling routine.
The act was met with enthusiastic applause, but not just for her efforts on stage. Off stage Jane and Reg had managed to raise the astonishing sum of $84,746. For their efforts they were awarded with the event's Most Funds Raised trophy. Jane attributes her success to the generosity of her sponsors and to the impact of the Central Okanagan Hospice House has had on both her and the wider community.
"It's an issue that touches everyone. Regardless of who we are we all must face death. Hospices provide a crucial service to the community. I learned this firsthand when a former colleague of mine was diagnosed with a terminal illness. Through my experience visiting her, I discovered that hospices hold a special place in palliative care. They manage your pain but more importantly they create an environment that feels like home, and that's so important because nobody should face death alone."
Jane exemplifies the spirit of caring that lies at the core of the REALTOR® community; an understanding of community and the desire to give back to the people that have helped make her the kindhearted professional she is today.
"If anybody asks you to participate in charity, don't give it another thought, just say yes."