The Victoria Real Estate Board (VREB) is one of more than 30 real estate boards and associations across Canada participating in REALTORS Care® Week 2020 and supporting local homelessness-related organizations on behalf of their members this year.
"I know it's been an unprecedented year for all of us and it's a great thing that our REALTOR® community can come together and do something positive to support our communities," said VREB President Sandi-Jo Ayers. "Our board is so pleased to be a part of REALTORS Care® Week this year and to be supporting the Cridge Centre for the Family."
During the week of November 23-27, 2020, VREB will be making a $25,000 to the Cridge Centre for the Family. For generations, the Cridge Centre has offered the people of Victoria a place to turn when they have no were left to go. The Cridge Centre offers a wide range of support services including transitional housing, brain injury services, seniors' services and more. Their mission is to restore hope and provide a community for people experiencing some of life's most difficult challenges.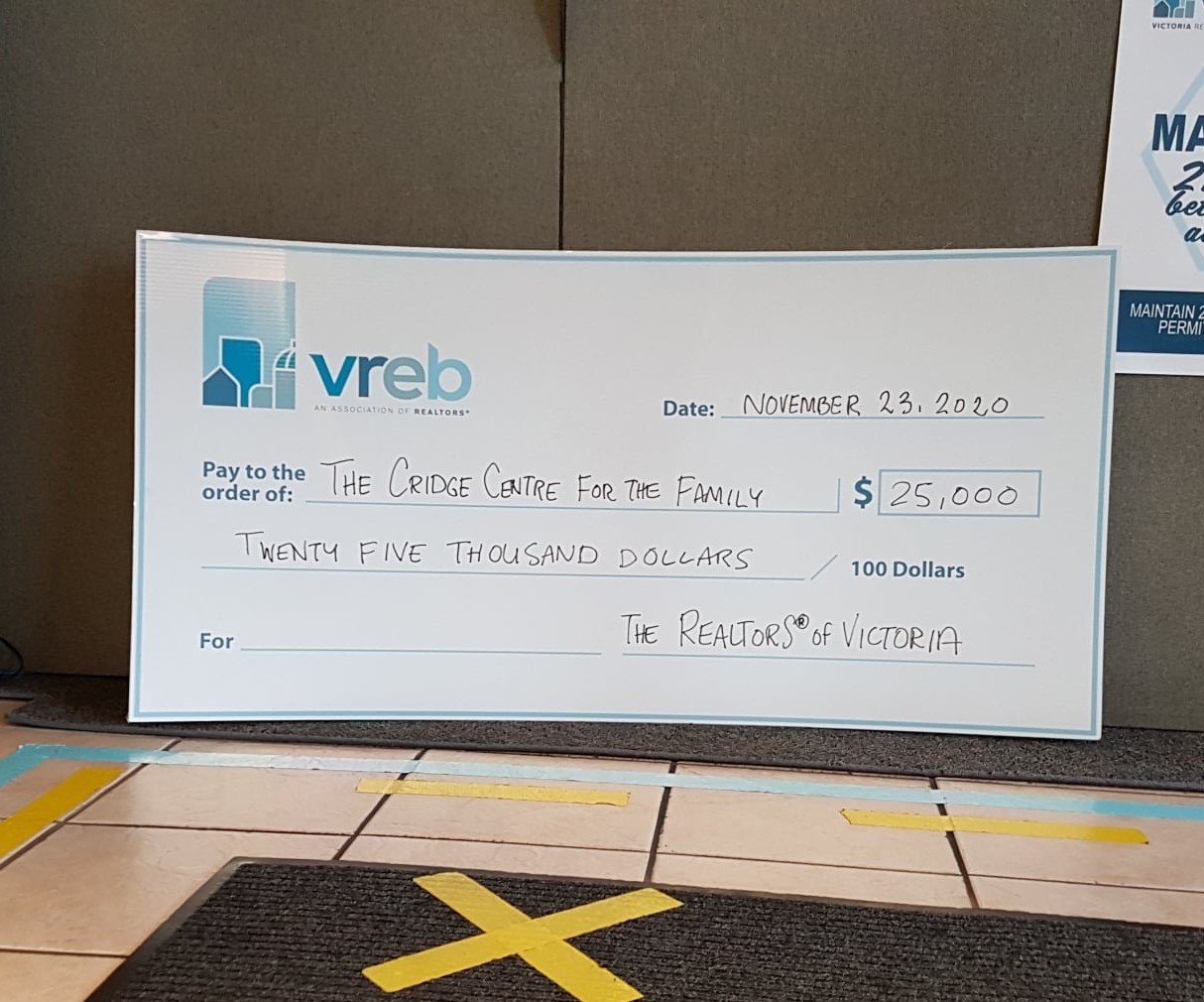 VREB is also encouraging their members to send donations of much-needed items—such as diapers, tampons, and baby supplies—directly to the Cridge Women and Family Transitional Centre. This Transition House offers safe shelter and supportive counselling for women and children escaping violence or abuse. Members who wish to donate these much-needed items may also drop their donations off via a drop box at VREB's office.
"The VREB's generous donation will make an incredible impact on our families at this very difficult time," shared Joanne Linka, the Cridge Centre for the Family's Manager of Communication and Fund Development. "We serve some of the most vulnerable populations in Victoria: seniors, children, women leaving abusive relationships, survivors of brain injury, refugees and immigrants, very young parents and families who have a child with a disability. Without support, these individuals and families are at risk of homelessness, insecurity and poor health. With the support of VREB, we are able to provide programs and supports to give hope, safety and security."