During REALTORS Care® Week 2021, the Woodstock-Ingersoll and District Real Estate Board (WIDREB) made sure that some of their most vulnerable neighbours were taken care of.
Partnering with South Gate Centre, WIDREB and REALTOR® volunteers packaged and delivered 200 SMILE Packages to local seniors who have spent most of the pandemic isolated.
"South Gate Centre is thrilled that the WIDREB chose our SMILE Packs for Seniors initiative for their REALTORS Care® Week project," said Chris Cunningham, Executive Director, South Gate Centre. "The impact of the SMILE Packs is immense. It's a way of letting our most vulnerable neighbours, seniors, know that someone is thinking about them, we care and are here for them. For many Seniors, this may be the only contact they have had with anyone for months."
South Gate Centre works to ensure that vulnerable seniors are able to enjoy the comforts of home well into their golden years. The organization works to reduce social isolation, reduce the incidence of elder abuse and victimization, and enable older people to live independent and dignified lives.
Packed with $3,200 worth of WIDREB-sponsored goods, countless in-kind donations from community partners and crucial community information, the SMILE Packages aimed to create a connection with seniors who may be struggling with the effects of social isolation, health or life in general.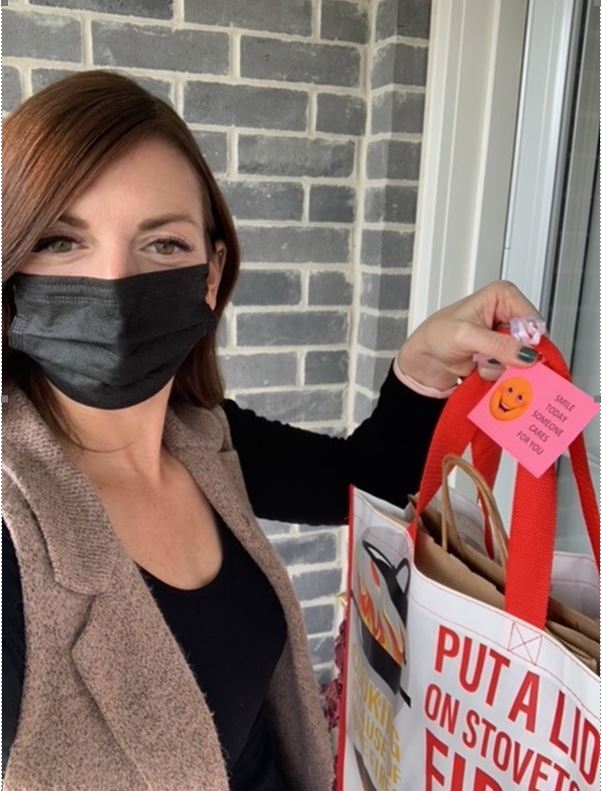 Delivering these packages was truly a team effort. A total of 20 REALTORS® spent 50 volunteer hours to make sure these seniors knew someone was looking out for them.
"It is so heartwarming to see all the effort put forward by our REALTOR® Members to make a difference in the communities that they call home," remarked Nicole Bowman, Executive Officer of WIDREB. "We were happy to be able to support our Charity of Choice, the South Gate Centre, during REALTORS Care® Week by bringing a smile to seniors in our community who have really had a difficult time throughout this pandemic".
Local REALTORS® worked tirelessly throughout REALTORS Care® Week to shop, collect donations, package and finally deliver these packages to 200 unsuspecting community members.
"What a great experience to be able to share smiles with the seniors in our community," said REALTOR® Alisha Wheeldon of Re/Max a-b Realty Woodstock. "They are sometimes forgotten in our busy lives, so this was a nice way for us to show we remember and appreciate them."
An avid supporter of local charities, the Woodstock-Ingersoll and District Real Estate Board has donated more than $17,000 to organizations like South Gate Centre so far in 2021. Other community endeavours include donating over 20,000 pounds of food to local food banks and trade bursaries for local secondary schools.