As news of the Russian invasion of Ukraine broke in late February 2022, Jacqueline Chilliak, a REALTOR® with Century 21 Fusion in Saskatoon, Saskatchewan, felt heartbroken and helpless about the tragic loss of humanity. She felt she needed to do something to help so she channelled her sadness into action and rallied fellow REALTORS® to join her.
Chilliak was notified that Stream of Hopes, a local non-profit organization usually dedicated to helping disadvantaged children in Ukraine and facilitating foreign adoptions, had shifted their focus in light of the war and had set a goal to fill a warehouse with donated humanitarian aid supplies and ship them to the country.
"I immediately went to Costco and loaded up with as much as I possibly could and took it to the warehouse," explained Chilliak. While there, she talked to several volunteers and started thinking about ways she could help boost their efforts. She decided to take advantage of her many connections in her community and encourage everyone she knew to get involved.
Chilliak brought the idea of holding a REALTOR®-led collection drive in support of Stream of Hopes to the leadership at the Saskatchewan REALTORS® Association (SRA), who felt it was a worthy cause. Within a few days, Chilliak, SRA staff, and fellow REALTORS® worked together to arrange for 11 donation drop-off locations at brokerages and SRA offices across the province and spread the word about the three-day collection drive, which was held from March 23rd to 25th.
REALTORS® and friends across Saskatchewan responded to the call for donations and filled a trailer with medical supplies, survival equipment, non-perishable food, clothing, and more.
"It was incredible to see the collaboration between everyone across the province," shared Jacqueline Zabolotney, Chief Operating Officer of the SRA. "We were happy to help facilitate this initiative, and it's only just the beginning of the things we can do to support our members giving back to their communities—not only locally but globally."
While many contributed to the cause, Chilliak noted there were a few key REALTORS® who really went above and beyond: Brodie Zuk and the team at Realty Executives raised $4,000 and used it to purchase supplies to donate; Paul Feraro of Royal LePage Hallmark donated a large amount of medical supplies; and Steven Bobiash of RE/MAX Saskatoon was a huge help bringing everything together.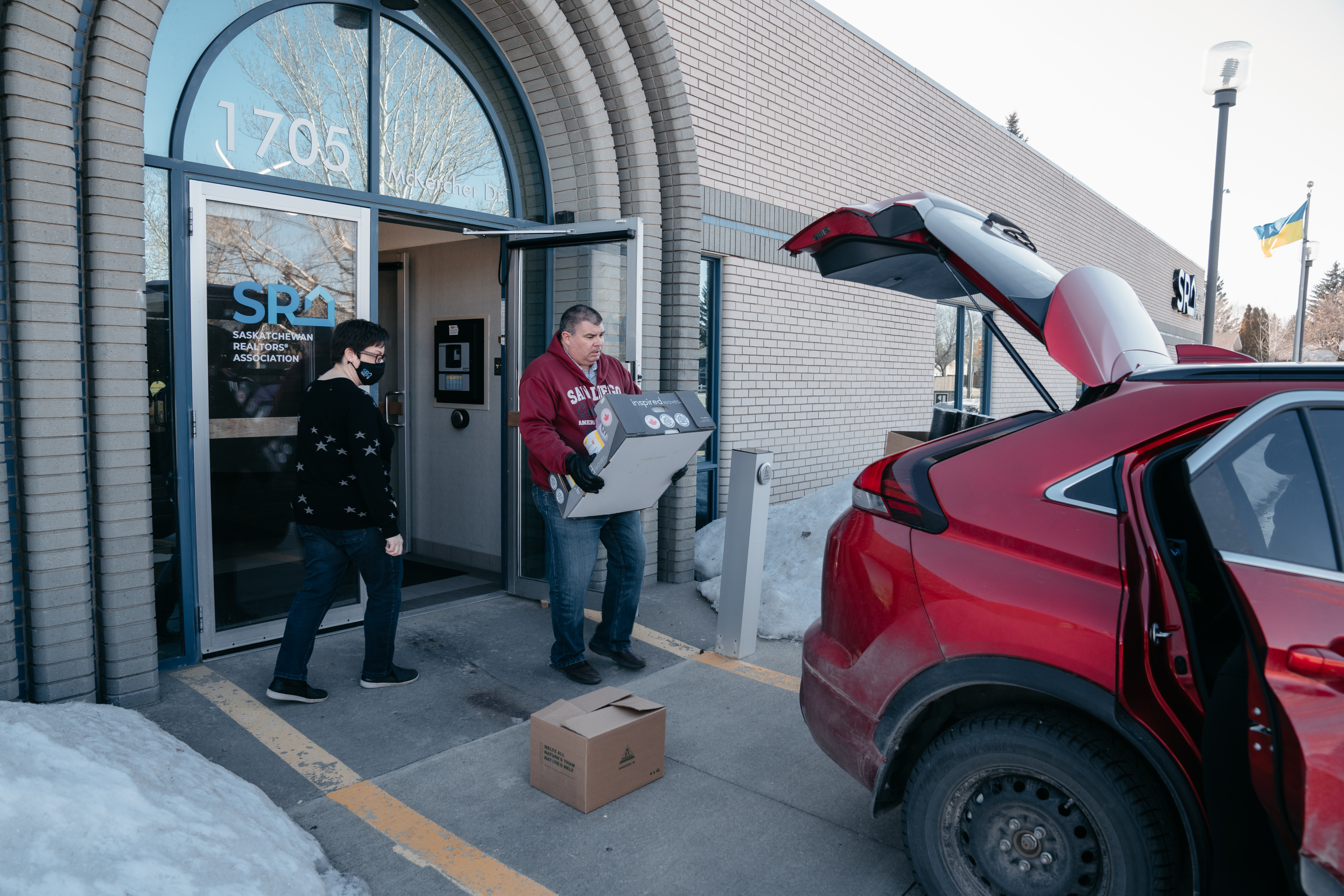 Bobiash, who serves as Regional Director for Saskatchewan on the Canadian Real Estate Association's (CREA) Board of Directors, felt a personal connection to the campaign. His grandmother and great-grandparents immigrated to Canada from Ukraine. In addition to helping organize the collection drive, he donated Ukrainian-themed donuts (Long Johns) for enjoyment by the volunteers and donors in Saskatoon and Regina, to show his appreciation for their efforts. The donuts were purchased as part of a fundraiser by Nestor's Bakery, which has raised more than $22,000 for humanitarian aid to Ukraine. This gesture reflected what he sees as a hallmark of Ukrainian culture: "For many Ukrainians, our culture is based on the sharing of limited resources and food is one of them. Even when people had little money or food, people always made sure guests and family had something to eat."
Chilliak encourages other REALTORS® and groups to consider holding their own collection drives in support of the people of Ukraine: "It's an ongoing need. Regardless of how much we gather, it's not going to be enough. It will never be enough. But it will all help."
In early March, CREA launched a national fundraising campaign on behalf of REALTORS® and real estate boards and associations across the country. The campaign has raised more than $460,000 ($250,000 online and an additional $210,000 offline) to date in support of the Canadian Red Cross' Ukraine Humanitarian Crisis Appeal. Tax-receiptable donations can be made here. CREA would like to send special thanks to the Ontario REALTORS Care® Foundation and the Toronto Regional Real Estate Board in particular for their incredibly generous donations of $100,000 each.