Two REALTORS® have raised more than $46,000 and organized the delivery of 30 tons of food and supplies to communities ravaged by flooding in their home province of British Columbia.
On Saturday, November 13, 2021, torrential rainfall hit southern B.C. and would last for two straight days. The devastating rain would lead to mudslides and flooding, blocking every major highway that connects the Lower Mainland to the rest of the country. Community members and weekend-travelers alike found themselves stranded in communities like Hope, Abbotsford and Agassiz.
As they watched media coverage of the flooding on the following Monday, Ron Basra, of Re/Max Select Realty in Vancouver, and Phil Moore, of Re/Max Crest Realty in Burnaby, immediately started to consider what they could do to help. This was the beginning of what would turn out to be a frenzied week for the pair.
"I felt the pain as I saw the news at home and I thought that I have to do something to help," says Basra, who contacted his friend Moore to help spread the word on social media. They started to let other REALTORS® know of their hastily formulated plan to airlift supplies.
Basra started to cold call helicopter companies in hopes of getting them to deliver supplies to communities that were partly stranded due to roads being washed out in the floods, primarily in the Lower Mainland.
After 20 calls, Basra contacted Jeremy Prasad, owner of Turbolyft Aerospace, a Pitt Meadows-based helicopter repair and parts company, who agreed to help.
Basra and Moore started coordinating trips of supplies from Basra's garage in Vancouver to the Pitt Meadows airfield, where they would be loaded and airlifted. The first five days were devoted to helicopter airlifts and the following five days, when highways opened, were used to transport supplies by truck. They say they moved so quickly that supplies arrived in communities before military assistance was even launched.
"We started at 11 a.m. the next day and by 6 p.m. we had one flight booked for the following day," says Basra, whose garage began to fill up with food, clothing and other supplies as REALTORS®, clients, friends, church groups and others pitched in to help. "During the days we organized this effort, I logged almost 5,000 text messages and emails. We were trying to keep everything moving as fast as we could."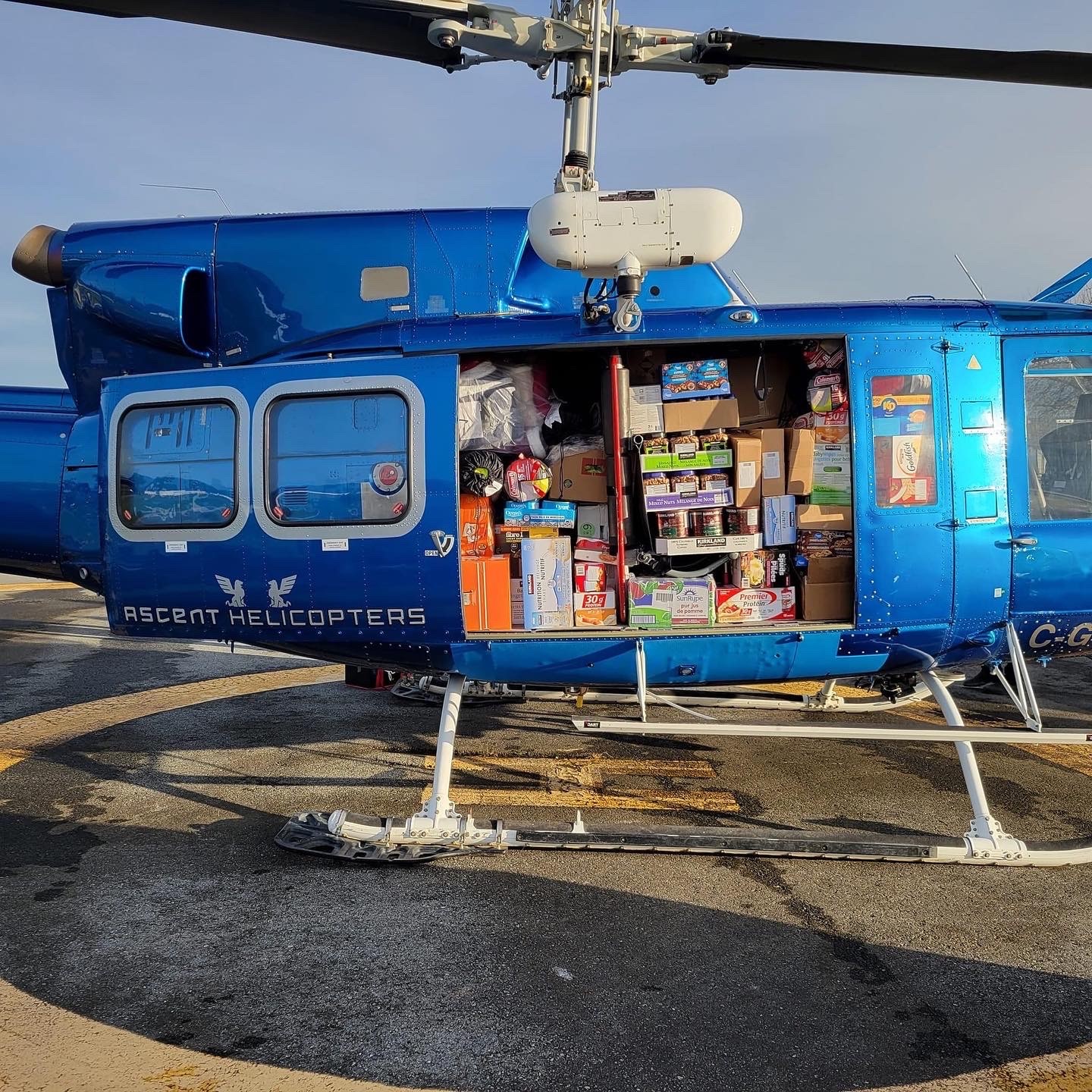 Moore put out a call for help on Facebook. It snowballed to include other REALTORS® and thousands of additional people connecting in the effort to get food and supplies to communities in need. He also started a GoFundMe page (where they raised $17,145 but is no longer active) and spread the word with his Twitter and Instagram accounts.
"I posted the initiative saying that REALTORS® are seeing people in our communities who need help and it just went viral," says Moore, who sits on the Canadian Real Estate Association's (CREA) Board of Directors and was President of the Real Estate Board of Greater Vancouver (REBGV) in 2018.
Among the many people who received help, Basra ensured that a family in Boston Bar whose young daughter needed medical supplies and special food for her illness got what she needed.
"REALTORS® saw people in our communities in need and wanted to help. We make a living helping people find homes and it was heartbreaking to see people displaced from their homes or trapped on highways as they tried to get home," says Moore. "We knew we had to do something."
Even weeks later, people continued to try and help, says Basra, who was still getting donations of supplies being dropped off at his home in mid-December. Moore has gotten a call from a bakery to donate pies, other people and groups want to provide items such as gloves and socks.
"It'll stop when there is no longer a need, I guess," says Moore. "B.C. has been through a lot but we're not out of the woods, so Ron and I are continuing to do our part however we can."
Basra says he's looking forward to the next challenge for the pair, adding that this mission has shown both he and Moore that "with the right intention, everything is possible."
REALTORS® across the country have pulled together in the wake of B.C.'s disastrous flooding. Both the Real Estate Board of Greater Vancouver and the Fraser Valley Real Estate Board redirected the funds raised during their annual REALTORS Care® Blanket Drive—more than $132,000—to the Canadian Red Cross' British Columbia Floods and Extreme Weather Appeal.
The Canadian Real Estate Association also launched a national fundraising campaign on behalf of their REALTOR® members and real estate boards and associations across the country. CREA's campaign raised $162,100 for the Canadian Red Cross' flood relief efforts.