Photo: Motion By Mike (motionbymike.com)
Collecting 19,000 pounds of clothes was the inspiring result of a group effort led by Ottawa REALTOR® Matt Richling, whose aim to help the community started more than a decade ago when he stood staring at the clothes hanging in his closet.
The Ottawa Clothing Drive met its goal of amassing more than 100,000 gently used items on May 29 by reaching out to local businesses, communities, charities and social media influencers, says Richling of New Purveyors, part of the RE/MAX Hallmark Realty Group in Ottawa.
"I wanted to do something where I could give back, that was my original motivation," he says. "It started one day when I was looking at clothes in my closet and thinking, how can I best give these to people who need them without just throwing them into one of those clothes bins?"
Richling launched the clothing drive event in 2010 and ran it for two years, then grew his family and waited until the time was right to reboot it. He resumed it this year, as he saw interest rates set to eat into people's pocketbooks in the wake of the pandemic, which he knew would hit people with lower incomes the hardest.
"When I started this years ago, I just wasn't in a financial position to donate much money to charities but I could see that with clothes, people could receive a tangible item of value that they could use and even love," he says.
He wanted the right people to get the right clothes. For example, the Fairy Godmother of Ottawa group works specifically on prom dresses and helps to make dreams come true for grads, which perfectly fit Richling's desire to deliver quality clothing that wasn't just castaways.
Other local charities that have benefited included Big Brothers Big Sisters of Ottawa, Dress for Success, the Ottawa Mission, Ottawa's Thrive Select Thrift, Footwear 4 Kids, The Snowsuit Fund, Caldwell Family Centre, Restoring Hope Ministries and Ottawa Innercity Ministries.
"We did a pickup at the home of an elderly woman who'd lost her partner," says Richling. "As we spent time with her, helping her sort through her late husband's clothes, clothes handmade by her mother, clothes with sentimental value, we talked about all the memories attached to them and it was very touching for all of us."
The first year Richling started the clothing drive, he collected a pile of garments that could fit into a small car. Then he partnered with the Marriott hotel and filled up one of their rooms the next year with donations. His ambitions for the event grew and so did the facility.
This year, the TD Place Arena, donated by Ottawa Sports and Entertainment Group, became the initial destination for the clothes, which featured entertainment that would make it fun for the volunteers. Sorting, labelling and distributing the items to the charities continued throughout the following week.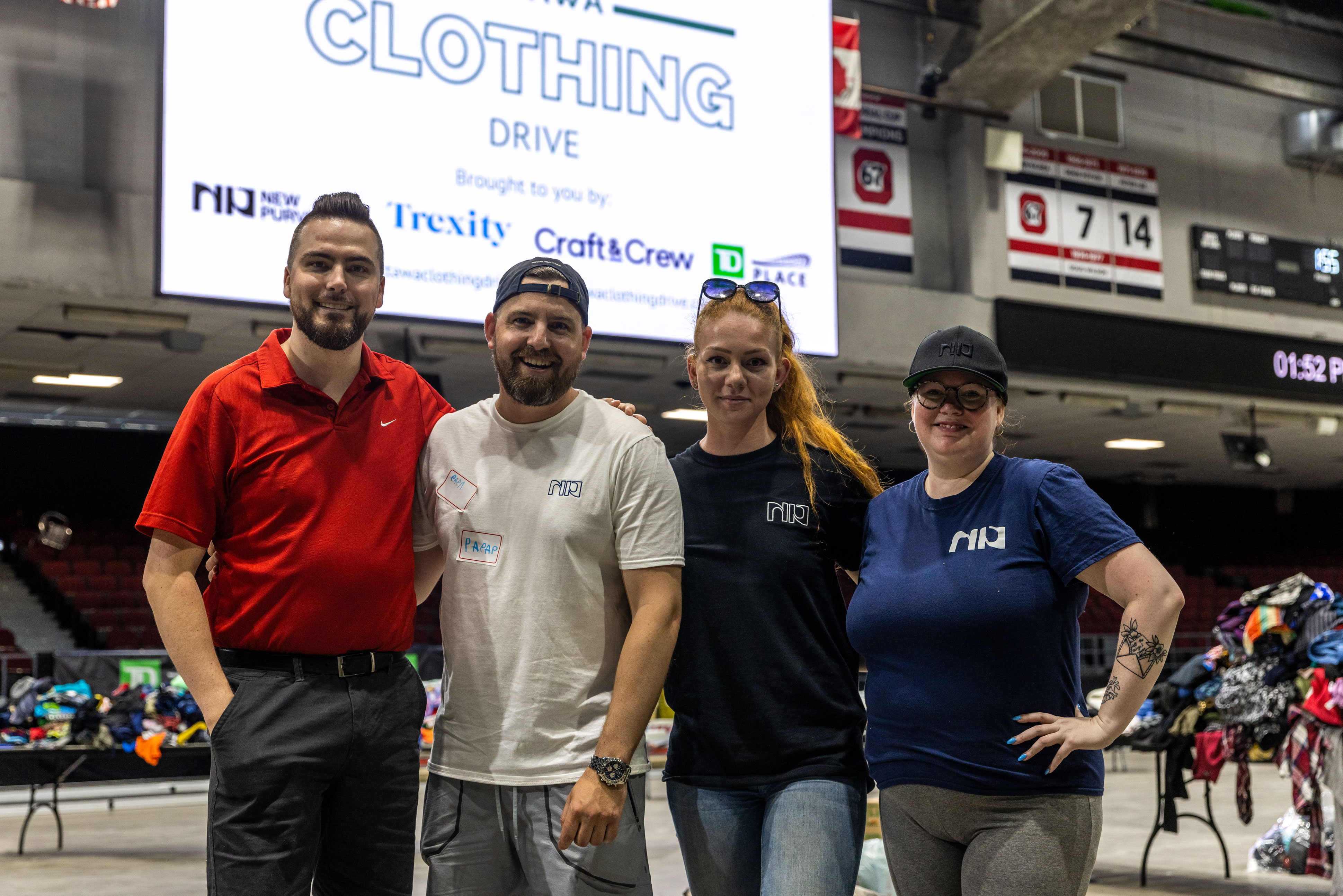 "Handling the sheer volume of clothes was the biggest challenge of the clothing drive this year," says Richling. "We knew from a logistics standpoint that it would test us but people pitched in and their generosity has made it even more substantial and amazing then I'd expected."
Making a big clothing drive run smoothly is a two-part process, he says. First, get the clothes, then get them sorted and delivered to various charities. Companies that helped to make the event a success include local delivery company Trexity and the marketing agency Craft&Crew.
Other REALTORS® who consider starting a clothing drive or a charitable event might draw on the social media strategies that Richling and his head of marketing at New Purveyors, Lauren Lozier, put in motion.
"We utilized Instagram as the foundation of our marketing and once we built out the page, we began contacting Ottawa influencers — foodies, travel gurus, and local photographers, asking them to share the initiative with their followers," says Lozier.
"More than 50 influencers in the Ottawa area, with followings ranging from 1,000 to 350,000, helped gather more than 350 donors before we ever hit the mainstream media. Then it snowballed quickly," she says.
Richling plans to keep rolling on.
"This year we became the largest clothing drive in Ottawa history, so for next year, we are setting our sights on becoming the largest clothing drive across Canada," says Richling. "Stay tuned."