Each year, REALTORS Care® Week brings together REALTORS® from across the country to make a collective impact in their communities. That's why the Canadian Real Estate Association (CREA) followed in the footsteps of local and provincial boards, associations, and REALTOR® members this week to support housing and shelter-related charities in the third iteration of REALTORS Care® Week (November 15 to 21).
On November 16 and 17, CREA staff took part in a build with Habitat for Humanity Greater Ottawa, to help local families gain stability through affordable homeownership programs. Over two full days, 16 CREA staff volunteers contributed a collective 112 hours of work to lend their hands to Habitat's vision of "a world where everyone has a decent and affordable place to live."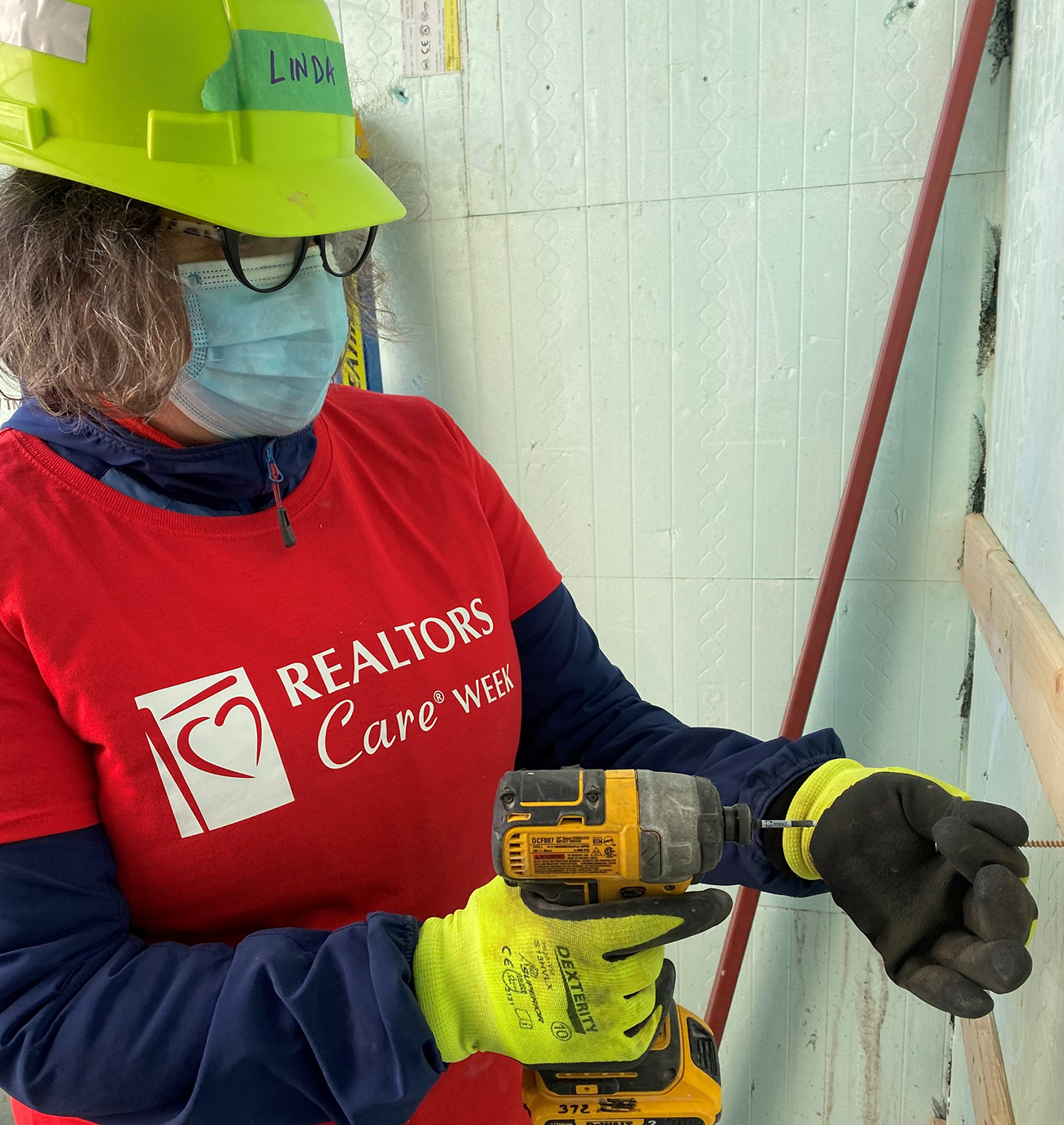 "Having the Canadian Real Estate Association on our build site for the past two days has been an incredible experience. It was great to see members of their team volunteering and getting to see each other in-person again while making an impact on affordable housing in our community. Their hard work throughout the two days has allowed us to significantly progress in the construction of our eight-unit development, Titus Landing at Wateridge Village. This development will allow eight local families to move into safe, decent and affordable homes. This would not be possible without the help of the Canadian Real Estate Association." says Adrian Schut, Director of Construction with Habitat for Humanity Greater Ottawa.
While best known for their "build" projects, Habitat for Humanity offers many other ways to get involved, so even if swinging a hammer, or wielding a paint roller isn't your thing, any volunteer is very welcome.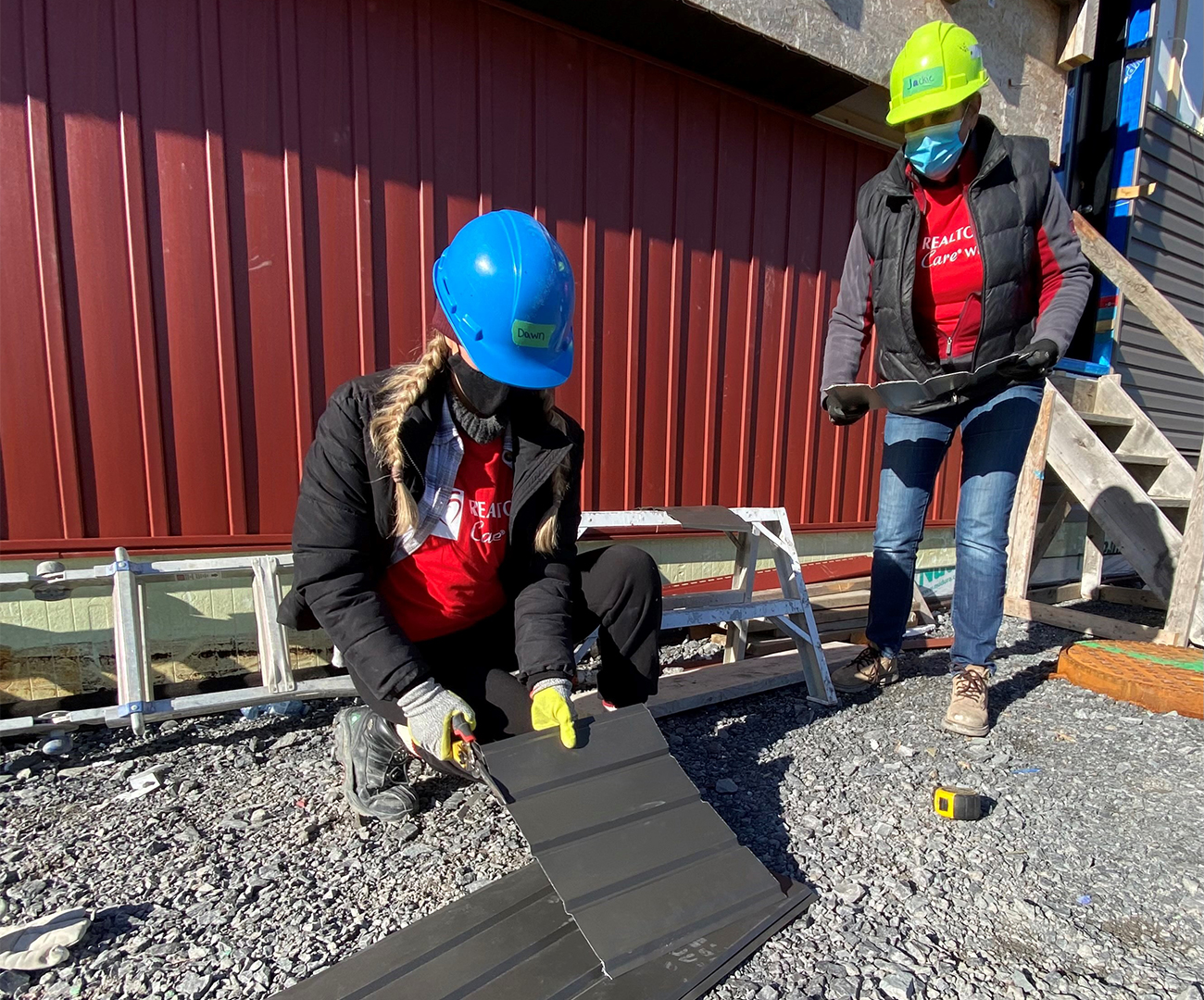 "CREA staff are thrilled to be participating in REALTORS Care® Week again this year, in solidarity with our REALTOR® members who are so committed to giving back to their communities across Canada. We are excited to be partnering with our local Habitat chapter, because we believe strongly in their mission to provide a solid foundation for families in our community through building much-needed affordable housing," says CREA's Sarah Thirnbeck, Associate Director, Strategic Impact.
While the goal of REALTORS Care® Week is to rally the support of boards, associations, and members for a week each year, the CREA team located in Ottawa contributes to causes both locally and nationally throughout the year.
Ottawa Food Bank
The Ottawa Food Bank provides fresh and non-perishable food, as well as supplies such as diapers, toiletries, and cleaning supplies to its network of more than 100 emergency food programs across the city. During the summer months, CREA's Social Committee held an organization wide BINGO game and donated proceeds to the Ottawa Food Bank for every staff member who played. As the holiday season approaches, the Social Committee will once again be organizing their annual Ottawa Food Bank holiday drive, helping to make the holidays a little brighter for hungry children and their families.
United Way
Each year, many CREA team members choose to donate to various registered Canadian charities through the services of the United Way. The United Way partners with other organizations who help create opportunities for those in Canada who are working hard to better their lives. CREA staff can choose which charities their donation will go toward, which makes it easy to support the cause that means the most.
Centre 507
Located just minutes from CREA's Ottawa offices, Centre 507 welcomes more than 150 people each day, helping support them with nutritious meals, harm reduction, job preparation, legal assistance, housing, and other needs-based services. CREA is always happy to lend a helping hand to support our neighbours at Centre 507, however, some volunteer-based initiatives have been slowed due to the COVID-19 pandemic. That said, plans for replicating past year's chili lunches, food and clothing donation initiatives are in the works and ready to be deployed as restrictions are lifted.
CREA is proud to support our communities, and excited to have participated alongside so many REALTORS® as they continue doing good and uplifting those around them. We are honoured to be part of this growing legacy, and hope REALTORS Care® Week can inspire even more people to support a cause close to their hearts.