Ontario REALTOR® Jennifer Evelyn was only three days into her intended month-long paddleboarding journey when she reached a point where she didn't know if she could go on. She found a stretch of sand in Bowmanville where she could take a break. She curled up on the beach and desperately tried to escape the sun's harsh rays by covering herself with a few thin branches and some leaves. She tucked her head into her elbow and considered giving up on the pledge she had made to travel 482 kilometres on her stand-up paddleboard, raising funds and awareness for Children's Miracle Network hospitals along the way.
The spinal injuries she'd suffered as a passenger in a motorcycle accident in the summer of 2010 flared. The disappointment that she might not be able to push her body to complete the task she'd given herself became overwhelming, bringing her to the breaking point of exhaustion.
"It wasn't just physical pain that I was feeling, it was very emotionally trying, too," said Evelyn, 53, an Oshawa-based broker with RE/MAX Impact Realty.
Evelyn rallied herself to contact two of her friends. One provided consolation over the phone and explained that she was likely suffering from heat stroke. Another jumped into her car to bring Evelyn Gatorade and take care of her for the rest of the day. This support helped her get back on track.
She successfully completed her Paddle for Miracles journey, arriving at the Children's Hospital of Eastern Ontario in Ottawa 28 days later.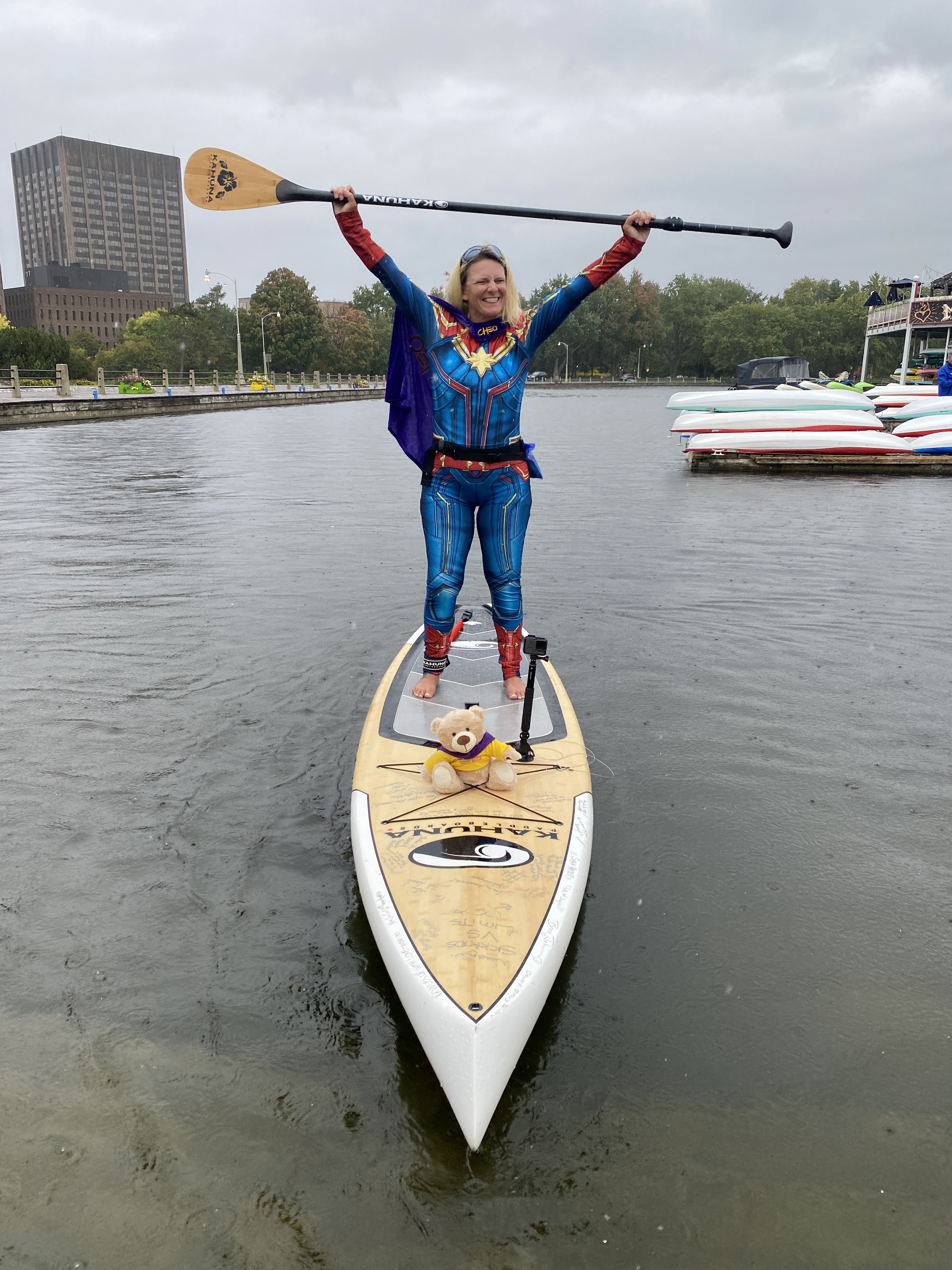 "The motivation that got me started kept me going, knowing that I was doing something to help sick children and the hospitals where they are treated."
Children's Miracle Network raises funds and awareness for 170 member hospitals, including 14 in Canada. Donations fund research, treatments, healthcare services and medical equipment. So far, Evelyn's campaign has raised more than $100,000. She has raised her goal to $125,000 after surpassing her initial targets of $50,000 and $100,000.
Evelyn expresses a lot of appreciation for the "astounding" support she has received from fellow REALTORS®. She has proudly recognized several she refers to as "Steward Agents for Paddle for Miracles" on her social media accounts, thanking them for donating more than $1,000 to her campaign and helping to raise the profile of her mission.
Evelyn is also quick to acknowledge that the inspiration for Paddle for Miracles came from two other REALTOR®-led fundraisers: Wasaga Beach  REALTOR® Bruce Johnson launched Motorcycle for Miracles in 2013 in support of Children's Miracle Network in memory of his daughter, Alyssa Rae; and Evelyn's friend Trudy Wilson swam the Trent Severn Waterway in 2016 to raise money for SickKids, in honour of her late daughter, Lauren.
Etched into Evelyn's paddleboard are words of encouragement from moms, dads, kids and well-wishers who stoked her enthusiasm when it was tested by bad weather and aches and pains, and who confided their own private stories to her about the medical problems they and their children faced.
"It made me realize that I am so lucky to be a mother and grandmother who has healthy children and grandchildren and to know that this isn't the case for many people and that they need help," said Evelyn.
Evelyn is already eyeing another Paddle for Miracles and considering potential routes in Western Canada.
"All of this has taught me that if we can create conversations along the way, then the ultimate winners are going to be the kids and the hospitals. I just feel fortunate that I have been able to step up."