On May 1, 2019, the Woodstock-Ingersoll & District Real Estate Board hosted their 9th Annual REALTORS Care® Food Drive in Woodstock, Ingersoll and Sweaburg in support of local Salvation Army food banks. This year proved to be their most successful year yet, netting more than 28,000 pounds in food donations.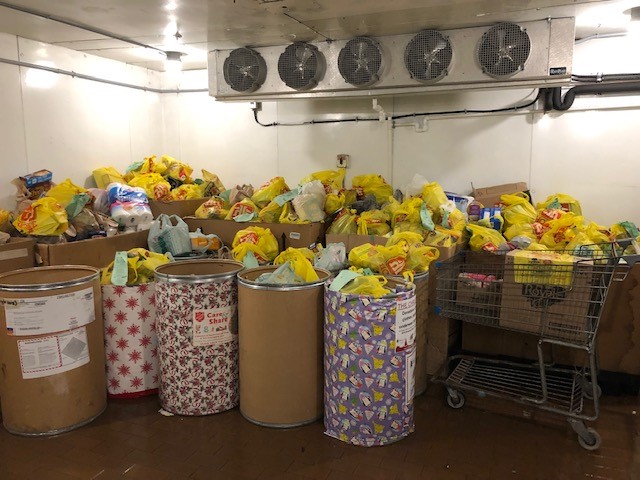 What started as a humble effort by one REALTOR® and a handful of friends nine years ago has become the area's largest food drive, even outpacing the local Santa Claus Day Parade. Behind it all is REALTOR® Kelly Byers. It was her idea that has resulted in a total of 166,000 pounds of food being donated for those in need to date.
"When I heard our local food bank was low on food, I was eager to help in any way possible," Kelly Byers explains. "When it all started in 2010, it was just me and a few helpful friends and REALTORS®. The results were incredible, and I started to think how we could make things bigger, so next year I took it to the board, and they were extremely receptive to the idea. We're always looking for ways to give back to our community."
Kelly introduced a method learned from her past charity experience to help bolster food collection. Kelly's method utilizes active solicitation, going directly to homes in the neighbourhood in advance to inform them of the drive. Instead of asking participants to bring donations to a given location, Kelly and her team return to those homes the following week where donations are quickly picked up right off their front doorsteps. This method has made it possible for the program to cover areas across the city and, with the help of many eager volunteers, collect massive amounts of food.
"I first found out about the method when I was volunteering as a teenager. I thought it was a great idea decided to use it when things began in 2010," explains Kelly. "I had just moved to Woodstock in 2007 so I didn't know what to expect, but everyone was incredibly supportive. We've been able to organize it so we can expand beyond Woodstock into the surrounding communities."
Kelly is grateful for the help of her fellow REALTORS®—including Reineta Gossier and Mary Baxter, who now share coordination responsibilities for the event—and the Woodstock-Ingersoll Real Estate Board.
"None of it would be possible without all those who pitched in to help," says Kelly. "And thanks to their efforts, the food drive has grown into something really special. Charity is something that all REALTORS® can connect with. It's part of the way we try to give back to the community that has done so much for us."