During a summer like no other, REALTORS® in Kitchener-Waterloo, Niagara and Edmonton were able to maintain their support of local charities close to their hearts in spite of the COVID-19 pandemic by participating in successful virtual events led by the Kitchener-Waterloo Association of REALTORS®, the Niagara Association of REALTORS®' Young Professionals Network, and the REALTORS® Community Foundation respectively.
The Kitchener-Waterloo Association of REALTORS® (KWAR) and its members are long-time supporters of Habitat for Humanity Waterloo Region and frequent participants in Habitat team builds in their local area. Unfortunately, volunteer opportunities on Habitat's build sites have been suspended indefinitely due to the pandemic. On July 16, 2020, the team at KWAR provided its members the opportunity to participate in an hour-long "virtual team build" over Zoom.
"Our members love supporting Habitat and we didn't want to lose momentum," explains Tania Benninger, KWAR's Communications and Government Relations Manager.

During their online event, KWAR members were able to share their favourite build day moments from years past, take a virtual tour one of Habitat's current builds, hear updates from Habitat staff, and learn more about Habitat's ReStore programs and their benefits for REALTORS® and their clients.
KWAR is following their virtual team build up with a virtual Habitat fundraiser. Their first-ever "REALTOR® Run"—a self-paced week-long 5K challenge—will take place September 28to October 4, 2020. KWAR's Events and Sponsorship Manager, Katrina Snider, describes the upcoming run as "COVID-proof" because members will participate safely from their own neighbourhoods.
All participants will be proudly donning #KWRealtorRun shirts so they will be easily spotted while on the move. Participants are being encouraged to take photos along their personal routes and share what they love about their community along the way. Donations are being collected online with a goal of raising a collective total of $15,000.
From August 6-9, 2020, the Niagara Association of REALTORS®' (NAR) Young Professionals Network (YPN) spearheaded a silent auction online to engage fellow REALTORS® from a safe distance and raise much-needed funds for the Niagara Health Foundation. The NAR YPN volunteers lined up 50 auction items, with more than half coming from local Niagara businesses. They set a fundraising goal of $2,500 and in the end raised more than $3,375. Auction items were safely distributed to their winners via curbside pickup following the close of the online event.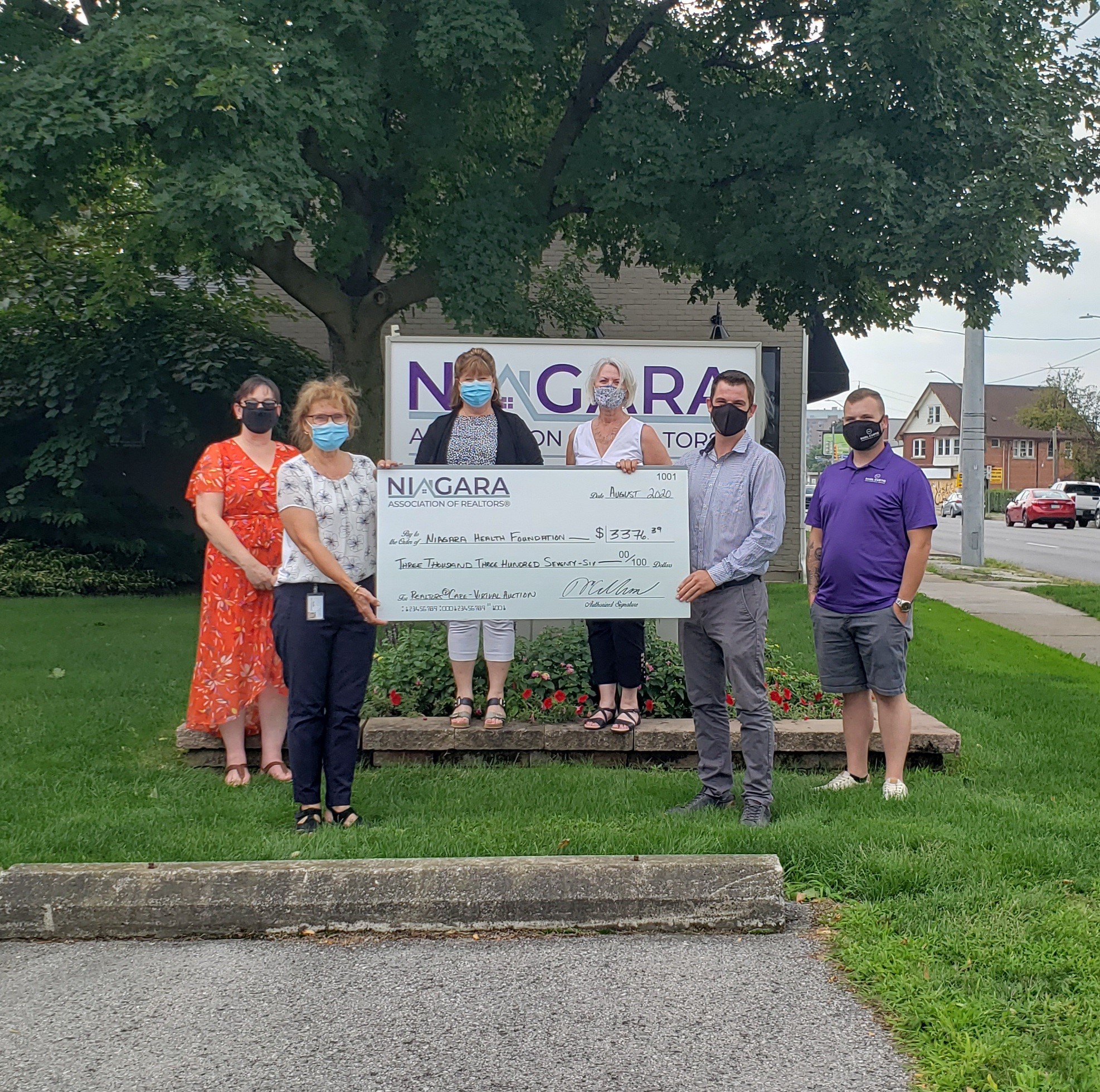 "Raising funds can be hard at the best of times but our dedicated YPN committee and staff really showed how innovative REALTORS® can be," proudly shares NAR President Terri McCallum. "Problem solving is in their REALTOR® DNA! They found a way to present the auction professionally online, generate interest and enthusiasm to fellow members, collect fantastic items to bid on and raise funds to support the Niagara health system all at the same time."
The REALTORS® Community Foundation (RCF) in Edmonton turned their need to downsize their offices as a result of the pandemic into an opportunity to give a boost to grassroots charities in their city. They came up with the idea for a "BIG Moving Sale," which was brought to life online between July 3-20, 2020. The sale was a great success, with more than 100 people bidding on items and more than $9,000 being raised in the end.
"It was fabulous to have exceeded our fundraising goal of $8,000 while also finding new homes for some items that surely have a lot of life still in them," says Anika Zepp, the Executive Director of the REALTOR® Community Foundation. "Furthermore, and perhaps my favourite part, is that we were able to donate computers, feminine hygiene products, coffee, outerwear and more to local charities to pass on directly to their clients."
Following the sale, the RCF ensured the safety of all those who purchased items by coordinating scheduled pickup windows over a two-week period.
These three groups within the REALTOR® association community in Canada and their members have shown that, with the help of technology, supporters can still rally together—from a safe distance—in support of deserving charities in their communities, despite the many challenges caused by the COVID-19 pandemic.