During the first-ever national REALTORS Care® Week, which took place November 18-22, 2019, REALTORS® from six offices in Edmonton shared the comfort of home with those in need in their community by volunteering more than 60 hours of their time collectively. The REALTORS® Association of Edmonton and the REALTORS® Community Foundation Edmonton and Area partnered to rally the troops and provide a range of volunteer opportunities from which REALTORS® could choose.
"I am not surprised but continually amazed by our real estate community and especially our members of the REALTORS® Community Foundation," says Jennifer Lucas, Chair of the REALTORS® Association of Edmonton. "The generosity of spirit to improve the communities we live in shines through the programs they support and the volunteer hours given throughout the year and especially during REALTORS Care® Week."
On Monday, November 18, REALTORS® from Royal LePage Premier Real Estate, Mozaic Realty Group, and Schmidt Realty Group Inc. delivered meals with Edmonton Meals on Wheels.
"I had driven past the Edmonton Meals on Wheels building often over the years but had never been inside to see the magic happen until REALTORS Care® Week," explains Kimberly Ouellette of Schmidt Realty Group Inc. "What I can tell you from my experience is that the need is great, the meals are so appreciated and Meals on Wheels cares so much about their clients. It's easy to volunteer for roles like kitchen help or delivery driving and they are always looking for donations."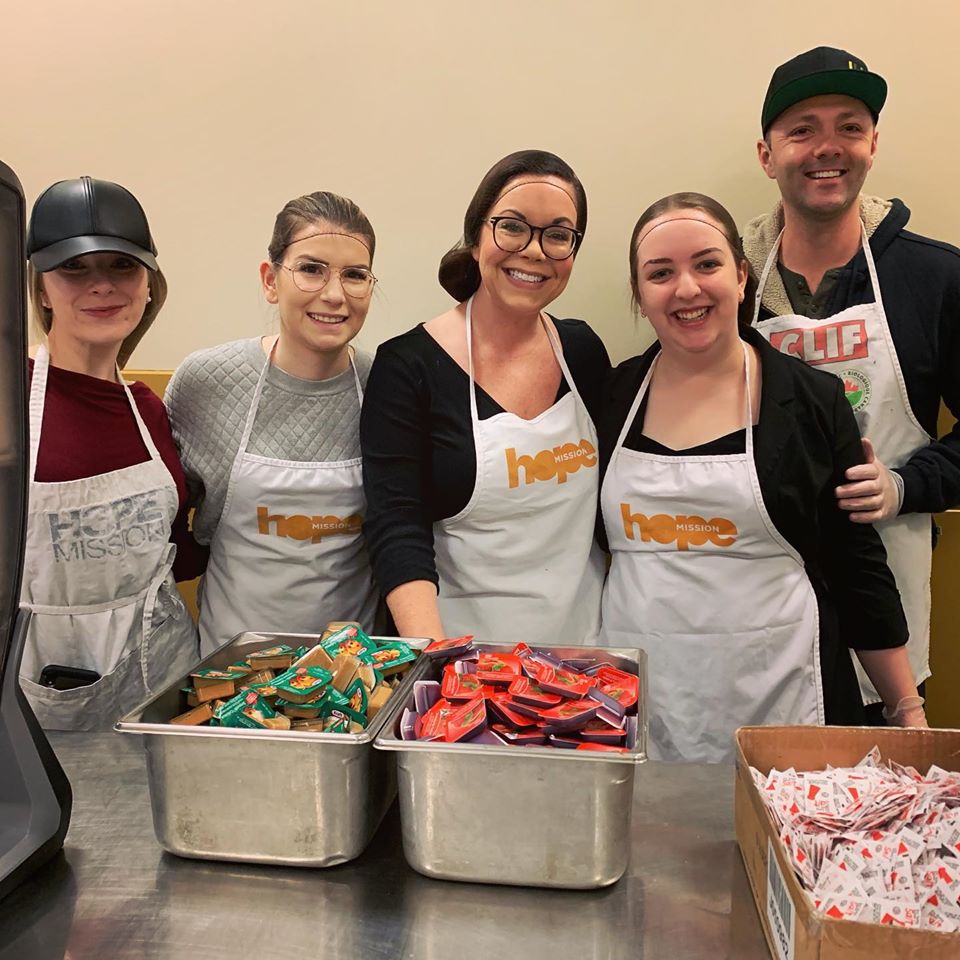 On Wednesday, November 20, REALTORS® from RE/MAX River City woke up bright and early to serve breakfast to those experiencing homelessness in Edmonton's inner city at Hope Mission.
"Volunteering with my 'work family' has proven to be one of the amazing perks of this job," shares REALTOR® Amanda Olivari. "Having the opportunity to help others and provide a smile to many faces that morning over breakfast brought me so much fulfillment. Taking time to work as a team to support others in our community is something I hope to be able to do much more this year!"
On Thursday, November 21, REALTOR® Valerie Oudin of MaxWell Challenge Realty volunteered at Habitat for Humanity ReStore South alongside her husband Michel. "While volunteering at the store, I realized that Edmontonians were very generous and that the store receives a lot of donations, which is fantastic," shares Valerie. "As a consequence though, there is a lot of constant work needed to accept, go through, label and organize all the items received daily. The presence of volunteers is critical to make sure the store runs smoothly and I was happy to help."
To cap off a wonderful week of giving back, on Friday, November 22, REALTORS® from Schmidt Realty Group Inc., Royal LePage Premier Real Estate, MaxWell Challenge, and RE/MAX Excellence served lunch at Operation Friendship Seniors Society.
"We know that investing in community can take many forms, and we are proud to be able to unite Edmonton Area REALTORS® in giving back both as volunteers and donors," says Anika Zepp, Executive Director of the REALTORS® Community Foundation. "REALTORS® care tremendously about the communities in which we all live and work. The volunteerism during REALTORS Care® Week is just one of the many ways by which they give back locally."
The REALTORS® Community Foundation has been empowering Edmonton and area charities like the ones mentioned above since 1986. They exist to engage the local REALTOR® community as donors, volunteers and champions for local grassroots charities. The foundation primarily funds organizations rooted in alleviating homelessness, providing shelter, eliminating hunger and preventing crime. To learn more, visit www.realtorscommunityfoundation.com.