During the first-ever national REALTORS Care® Week, which took place November 18-22, 2019, REALTORS® across Newfoundland and Labrador stepped up to share the comfort of home with those in need in their communities. Hundreds of REALTORS® from more than a dozen brokerages across the island volunteered their time to lend a helping hand within their communities.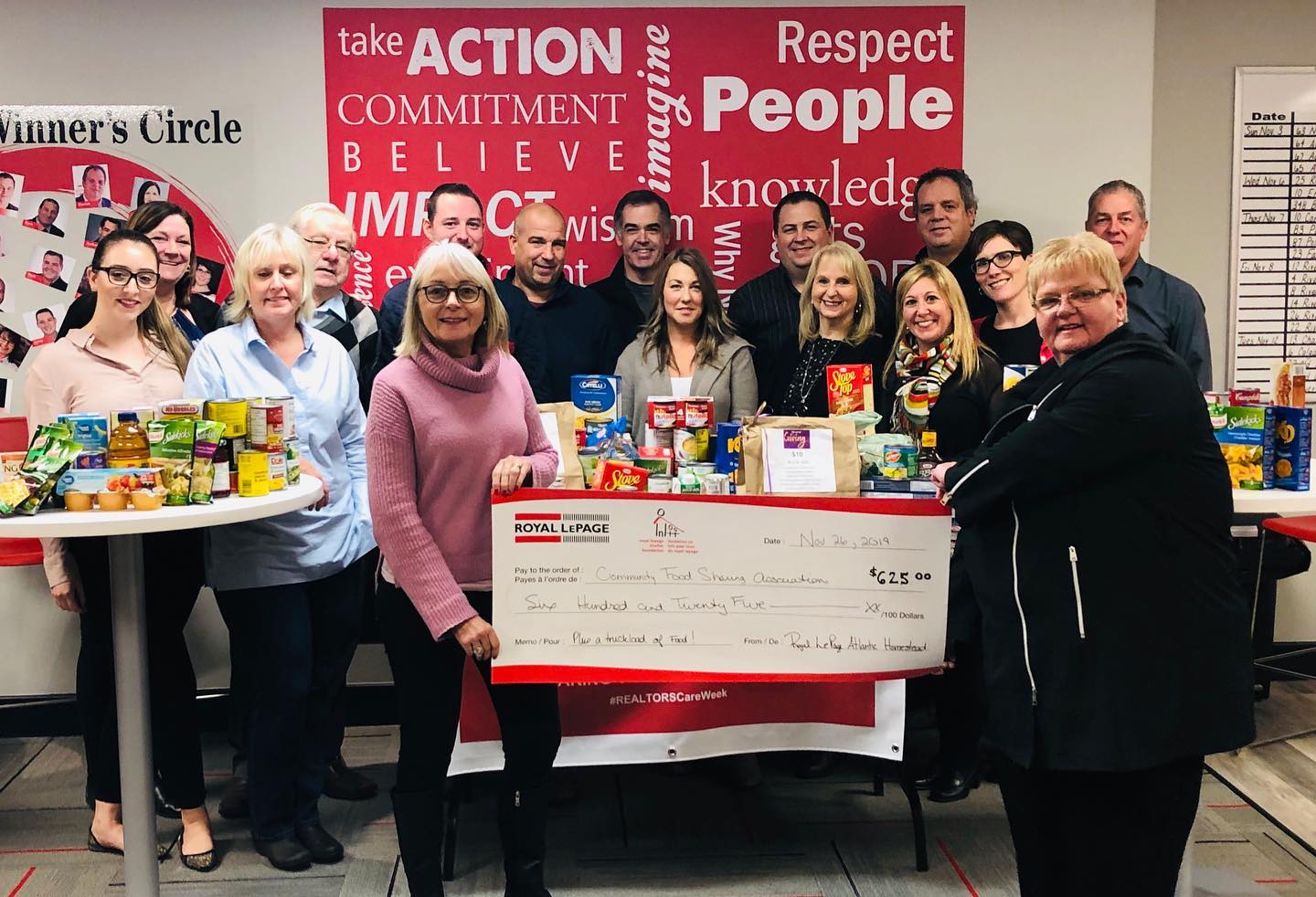 REALTORS® from Royal LePage Atlantic Homestead (above) held an event each day to raise money or collect contributions to a led a food drive in support of the Community Food Sharing Association, which distributes food through 54 food banks across the province. They collected $625 and enough food donations to fill an entire truck. (REALTORS® from across Newfoundland and Labrador rallied together to support this same charity after a devastating fire in early 2019.)
REALTORS® from RE/MAX Realty Professionals, K.S.A.B. Real Estate, and Royal LePage NL Realty worked together to collect more than $1,500 worth of food for the Corner Brook Food Bank Network.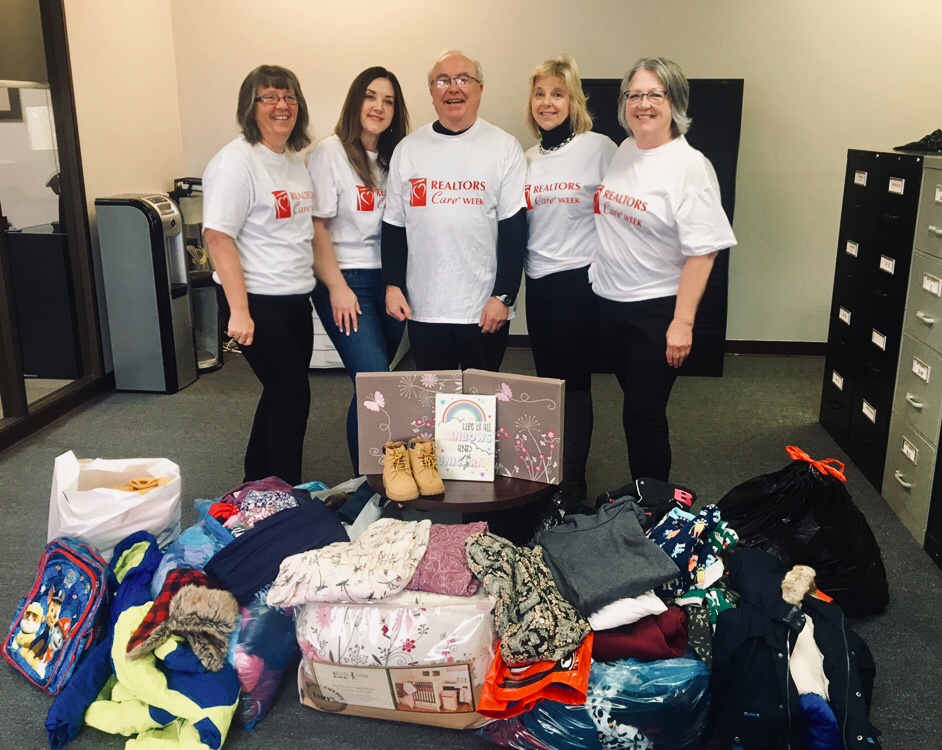 RE/MAX Eastern Edge Realty (above) organized and collected 12 bags of women's and children's clothing for O'Shaughnessy House, a shelter for victims of domestic violence in Carbonear. In St. John's, staff of the Newfoundland and Labrador Association of REALTORS® donated personal care items (sheets, blankets, pillows, towels, etc.) to their local shelter, the Iris Kirby House.
The team from Keller Williams Platinum Realty reached out to The Gathering Place, a community support centre in St. John's, to find out how they could have the greatest impact on its clients. Underwear, came the reply. "They get lots of food, toiletries and second-hand clothing donations, but underwear is rarely donated," said REALTOR® Nicole Darbaz. As a result of Keller Williams Platinum Realty's REALTORS Care® Week efforts, The Gathering Place received more than $600 worth of much-needed male and female underwear for their clients.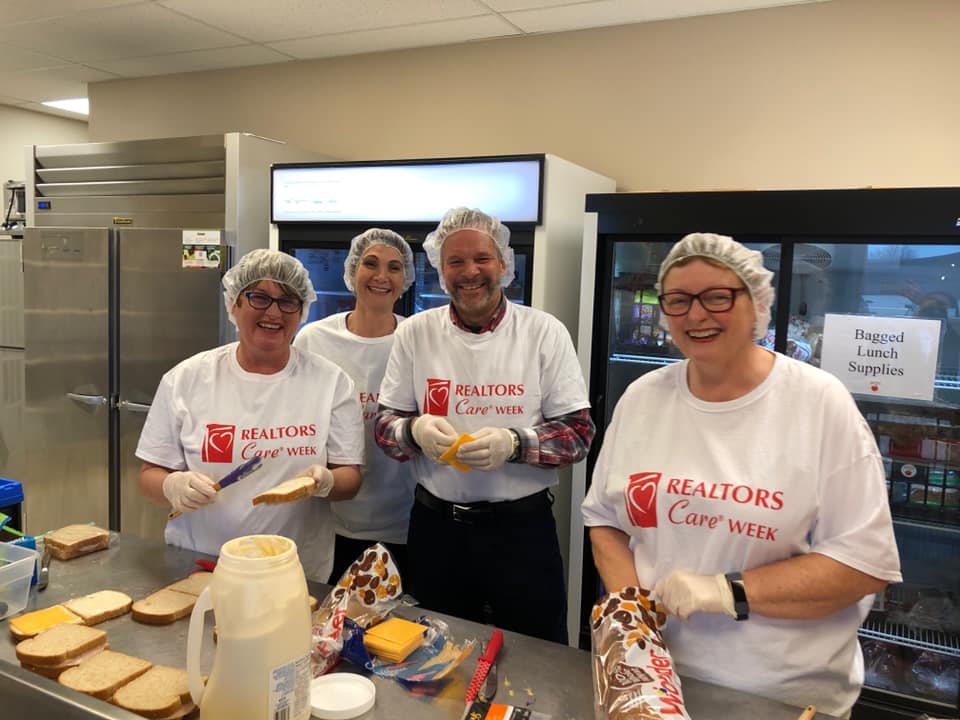 REALTORS® from Hanlon Realty (above), a St. John's brokerage, volunteered with the School Lunch Association to serve hundreds of children at Juniper Ridge Intermediate School.
A team of REALTORS®, including Randall Hobbs, treasurer of the Newfoundland and Labrador Association of REALTORS® (NLAR) and Gary Wiseman, NLAR Regional Director, marked REALTORS Care® Week by helping serve meals at the United Church Food Kitchen in Corner Brook.
Royal LePage Generation Realty and Century 21 Exploits Realty of Grand Falls-Windsor teamed up to help provide lunches for students at Woodland Primary School. REALTORS® in Gander from Royal LePage Turner Realty, Sutton Group – Beatons Realty, Homefinders Gander, and RE/MAX Infinity volunteered with the Salvation Army to prepare and deliver school lunches to all four schools in Gander. Clarenville Realty Limited and Cormack Realty Limited helped prepare a nourishing breakfast for the children at Clarenville Middle School.
On November 20, 2019, the Honourable Sherry Gambin-Walsh, Minister of Service NL, recognized REALTORS Care® Week in the House of Assembly of Newfoundland and Labrador and commended NLAR members "for their volunteer service…[and] their efforts to build stronger communities," during REALTORS Care® Week and throughout the year.
"REALTORS® are deeply connected to their communities," said Kimberly French, NLAR President, CREA Regional Director, Atlantic, and Chair of CREA's REALTORS Care® Committee. "We bear witness to people's highs and lows, seeing everything life has to offer. Helping to share the essential comforts of home with those less fortunate is a responsibility we hold dearly. It's such an important role, and we feel more than privileged to be able to play a part in making our communities a wonderful place for all."